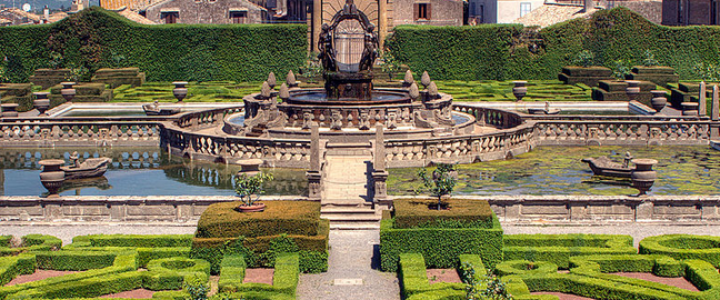 The gardens of the Villa Lante feature cascades and fountains. The visual and harmonious choreography was only achieved after Tommaso Ghinucci, a hydraulics engineer and architect from Siena, was called in; it is thought that his role was to oversee the hydraulics and building work. Although the renowned antiquarian and architect Pirro Ligorio was also consulted, it seems likely that the success of the water features is due to Ghinucci's expertise.
In the first of the ascending terraces, lodged between two stone staircases, is the Fontana dei Lumini ("Fountain of the Lamps"), a circular tiered fountain; on the ledge of each tier, smaller fountains, imitating Roman oil lamps, spout small jets of water which in the sunlight appear to blaze like lamp flames.
On the next (third) terrace there is a large and long stone table, with a central channel with water flowing.
Directly above and supplying the water for the fountain is the catena d'acqua or chain of water, a water feature (gioco d'acqua) that can be seen in other 16th-century gardens (such as the Villa Farnese and Villa d'Este); this rill of small basins allows the water to ripple down to arrive at the fountain between the sculpted crayfish claws. In the meantime, stairs flanking the catena d'acqua lead up to the next terrace.
Twentieth century
Following the demise of Lante's last cardinal owner in 1656, the villa passed to the family of Duke Ippolito Lante, in whose family it remained for many generations. In the 19th century the family, revived by an American heiress Duchess, (a daughter of Thomas Davies of New York) still lived at Lante in some style: the Gambara Casino was lived in by the ducal family and the Montalto was reserved for their guests.
In 1944 the gardens and casini were heavily damaged by Allied bombing after the fall of Rome. In the late 20th century the Villa was acquired by Dr. Angelo Cantoni, who completed a long program of restoration. It is now part of the Great Italians Gardens.
https://en.wikipedia.org/wiki/Villa_Lante