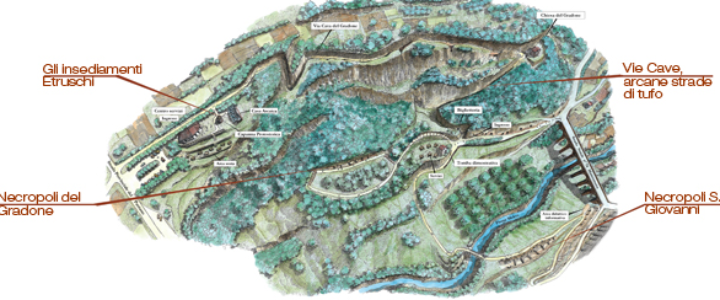 The visit starts just over the parking lot, where the reception centre with the ticket office and a refreshment point is located. The museum is divided into two areas: the "City of the Living" and the "City of the Dead".
In the first area, the "City of the Living", two houses were set up in different scales representing the ancient town of Pitigliano. It is possible to admire a royal scale model of a circular hut of the final Bronze Age (XII-XI century B.C.), made with a raised mixture of clay and straw placed on a frame of pertiche and reeds; And another of an Etruscan dwelling of the Archaic age (VII-VI century B.C.),
 Through a  path you can reach, after about fifty meters, a panoramic view on Valle del Torrente Melea and the Jewish cemetery of Pitigliano; this path continues descending steeply, and is the most difficult part of the path, where the tuff is slippery for the humidity and the presence of numerous recesses made to support the hooves of animals such as mules and donkeys. Shortly thereafter it is possible to admire on another panoramic terrace the chapel of the Saints Giacomo and Filippo Apostoli, commonly called the Chapel of the Grado, dating from the XVII century.
After a little more than a hundred meters, you reach the so-called "City of the Dead", where you can admire the Etruscan necropolis.
The visit continues inside a forest, rich in oaks, Cerri and Pungitopi, where is located the necropolis of the Grado, which presents a series of tombs to cruciform plant Chamber with Dromos steps of the VII century B.C.
Exiting the Via Cava the path continues to the right and leads to the banks of the stream Melea: once crossed the footbridge you arrive at the monumental necropolis of San Giovanni. The necropolis dates back to the second half of the 6th century B.C. and is composed of several chamber tombs dug into the tufa; There are also a number of tombs of the Hellenistic Age (2nd century B.C.).
Once you reach the end of the route, you will return to the entrance along the back path.
pt02