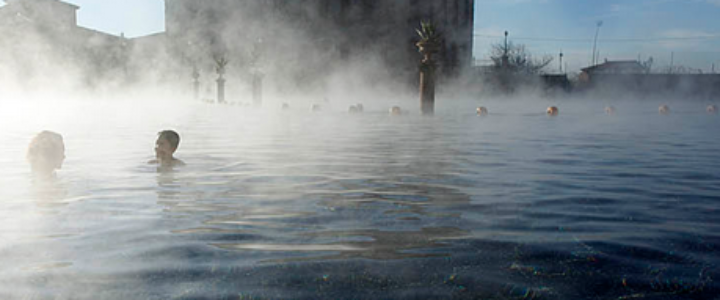 Traces of human settlement have been attested since Etruscan age when this area was known for its hot springs. It was later called Aquae Populoniae by the Romans. During the Middle Ages, the area became depopulated due to the vicinity of noxious marshes. In 1863, when the railway through the Maremma region was inaugurated, Campiglia Marittima station was built close to Venturina for its strategic position. Since the early 20th century, thanks to the drainage of the marshes and the development of Piombino's industrial area, the town gradually began to expand and increase its population.
The baths were built around the crater main Spa. The thermal water formerly known as Aquae Populoniae, are rich in sulphur, alkali and Earth, and flow from two distinct sources, at a temperature of 36° C with a capacity of 12,000 litres per minute. The baths extend over an area of about 60,000 m2 and consist of a thermal bath (where you engage in mud baths, massages, water massages, aerosols and beauty treatments) and a large spa pool. Known respectively as baths of Caldana and pond Calidario, derived from the primitive water reservoir.
were
built around
the crater
main Spa
.
The thermal water
formerly
known as
Aquae
Populoniae
,
are
rich in sulphur
, alkali
and
Earth
,
and
flow from
two
distinct
sources
,
at a temperature of
36
°
C
with
a capacity of
12,000
litres per minute.
The baths
extend over
an area of about
60,000
m2
and consist of
a thermal bath
(where
you engage in
mud baths,
massages
, water massages
, aerosols
and beauty treatments
) and
a
large spa pool
.