Nestled into the hillside of the Tuscan Maremma and under the shade of an ancient oak tree, there is a small charming inn, Ilune.  From the careful restoration of an old tuff farmhouse few kilometers from Pitigliano, Ilune desires to offer a welcome retreat and hospitable, perfect for a relaxing holiday or a romantic weekend in Tuscany..
"… io, per un giorno, per un momento, corsi a vedere il colore del vento. Volammo davvero sopra le case, oltre i cancelli, gli orti, le strade, poi scivolammo tra valli fiorite dove all'ulivo si abbraccia la vite…" ( Fabrizio de Andrè )
Upon your arrival, you will be welcomed by our olive trees, vegetable garden, fruit trees, herbs, large rose garden and our cats attentive and curious. The garden opens on the hills and woods reserving quiet corners, harmony and hot showers with waterfall. Dawn wakes up from behind the old oak tree; the sunset will accompany your look by coloring the skies over the olive groves of Maremma with its breathtaking palette.
The inn has a private parking and bicycles at your disposal.
We have not, by choice, the pool, but our guests can dine at a spa pool two kilometers from the inn. We are also affiliated with all the spa facilities in the area.
There is the possibility to go horse-riding at the stables lookout 1 km from the inn and play tennis at the club three km from us (tennis players are welcome).
The cuisine of ilune
In our inn offer stays in B & B (bed and breakfast) and, on request, dinner with traditional dishes of Tuscany and the Maremma.
Our meals are made using products from our garden and from quality local companies. A wide choice of local wines is also at your disposal.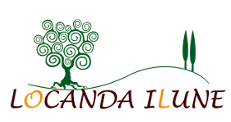 Strada Prov. di Sorano 2920/a
Pitigliano (GR) 58017
Tel.  +39 0564 617173
Cell. +39 333 4204000
Voice – SMS – WHATSAPP : +39 333 4852630
Email: ilune@ilune.it