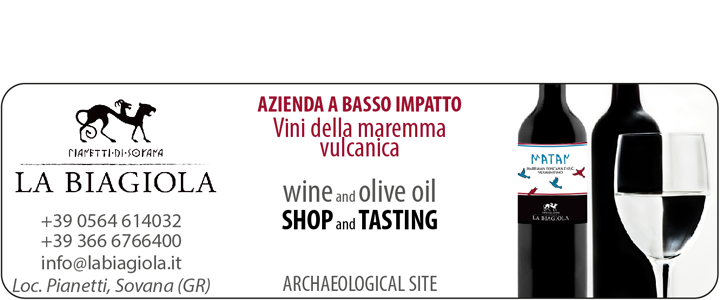 La Biagiola is a young company, founded with the intention of offering high quality wines, looking for Balance and Harmony in the tastes and flavors. Our choice is to produce wines with a strong Identity and Tipicity through the expression of numerous and exceptional tones of our grape varieties. <I 54
The vines are cultivated in the bi st Respect of the habitat, on a generous soil, since ancient times intended to vineyards. The extreme attention in getting healthy grapes with excellent characteristics is placed alongside updated Know-how and Technology, to ensue every winemaking process in a optimal and reliable way.
Wine shop and tasting everyday
10,00/13,00    16,00/20,00
 For reservation
+390564614032
+393666766400(Carla)
Archeopark
The discovery of the site of "La Biagiola" in 2004, by the voluntary Association "Gruppo Archologico Torinese" (GAT) is of utmost importance: it is, infact, a testimony of the lesser-known aspects of Sovana history
The site, in fact, has the peculiarity of its multilayer stratification:a Roman Villa grew over a late Etruscan settlement; afterwards, the Roman facilities were re-used by Lombard group during the early middle ages, when the site was turned into a cemetery.
Those graves, that have already been excavated, contained precious and interesting goods.
For informations: www.culturaterritorio.org
            Loc. Pianetti, C.S. Casale
Sovana di Sorano
Grosseto
58010
Italia
info@labiagiola.it
+390564614032
+390564614032
+393666766400
---