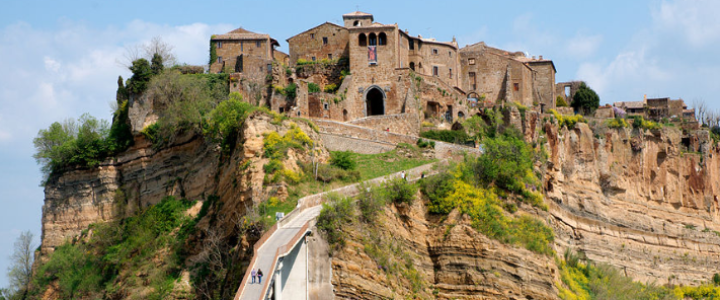 Civita was founded by Etruscans more than 2,500 years ago. Civita was the birthplace of Saint Bonaventure, who died in 1274.By the 16th century, Civita beginned to decline, becoming eclipsed by its former suburb Bagnoregio.
At the end of the 17th century, the bishop and the municipal government were forced to move to Bagnoregio because of a major earthquake that accelerated the old town's decline. At that time, the area was part of the Church 'State.  Bagnoregio continued to be considered as a small but prosperous town, while Civita became known in Italian as La città che muore ("The Dying Town"). Civita has only recently been experiencing a tourist revival.
The town is famous for its striking position overlooking the Tiber river valley. It is in constant danger of destruction as the edges of the plateau collapse due to erosion, leaving the buildings to crumble as their underlying support falls away. As of 2004, there were plans to reinforce the plateau with steel rods to prevent further geological damage.
The city is also much admired for its architecture strcuture. Civita di Bagnoregio owes much of its unaltered condition to its relative isolation; the town was able to withstand most intrusions of modernity as well as the destruction brought by two world wars. The population today varies from about 7 people in winter to more than 100 in summer.
The town was placed on the World Monuments Fund's 2006 Watch List of the 100 Most Endangered Sites, because of threats it faces from erosion and unregulated tourism.
https://en.wikipedia.org/wiki/Civita_di_Bagnoregio