Medici Tank at Cana is located in Piazza del Popolo, in the municipal territory of Roccalbegna.
Built by Medici in 1611, to collect rain water to be distributed to the villagers. It is an interesting monument of brick and stone.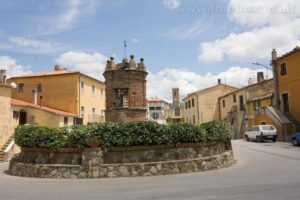 The structure has six sides, and two coats of arms are visible in lava stone, the first placed under the opening and the other on the opposite side. The entire building is topped by six stone spheres. An iron cross surmounting the monument.