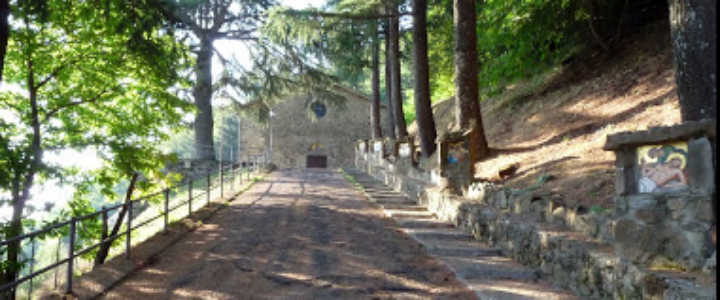 It was built in the thirteenth century, and consists of a large Late Romanesque nave ended by a straight wall in which there is formed a small semicircular apse.
Leaning against the church, on the left side is a small room, communicating with the sacred building through a tunnel, where he lived in the second half of the thirteenth century Blessed James Papocchi. On its altar is placed a canvas, dated 1618, with Christ who communicates Blessed James in his penitential cell.
Giacomo Papocchi, "onorificentia our nations", as defined in ancient inscriptions, was born in Montieri, in the province of Grosseto, in 1213. In his youth he served his work in local silversmith property of the bishops of Volterra. He was charged with theft of silver worked in local foundries; according to the justice of the time, then it administered by the Sienese, occurred at the Bishop in the local administration, including silversmith, was condemned the atrocious pain of mutilation of the right hand and left foot, thus being reduced to disability.


He asked the diocesan bishop permission to be "built into the wall," that is to live in strict seclusion, in a small cell adjacent to the San Giacomo Apostolo church, under the religious jurisdiction of the monks of the abbey of San Galgano.
Subjected to diabolical tests, however, it reached the highest peaks of mysticism; visions and miracles swept all his life, so much so that his cult reached uninterrupted to this day.
He died full of merits, revered by his people, 28 December 1289.

---