Casale Sterpeti was an abandoned farmhouse laying in ruins when Simone and Irene came upon it and decided to rebuild it fully in harmony with the local ambience using materials and techniques of the area.
The stonework exterior of the building is local stone and the beautiful timber beams etc have been saved and refurbished as have the traditional terracotta floors. In parallel with this love for the traditional have been incorporated all modern energy saving and communications facilities which give the highest standard of accommodation and comfort.
"We live in a paradise, but we do not care to know."
Fedor Dostoevskij
Descrete Tranquility.
Casale Sterpeti doesn`t comprise simply the Tuscan countryside flowing down to the fabulous sea and beaches.
Everything about Casale Sterpeti is reflected in its wonderful position, its reconstruction and furnishing in a style which is traditional yet fully modern in terms of its facilities all offering peace and tranquility in a wonderful Tuscan setting.
Casale Sterpeti offers a real getaway in terms of privacy and relaxation yet is accessible to all of the many wonders Maremma has to offer. Immediately apparent at the property are vineyards, olive groves, ancient oak and cork trees and an amazing view to the sea with the enchanting island of Giglio distant.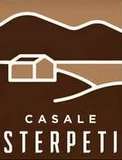 CASALE STERPETI di Simone Fabrizzi
Località Sterpeti 6 – Magliano in Toscana (GR)