Situated along the course of the river Cecina, the village is known since the fourteenth century. Feud of the Counts Pannocchieschi of ELCI, assumed particular importance starting from 1572, when the Count Marcello di Tommaso Pannocchieschi of Elci built a large villa here.

In 1833 the village of Anqua counted 362 units, while in 2001 recorded only 6 inhabitants.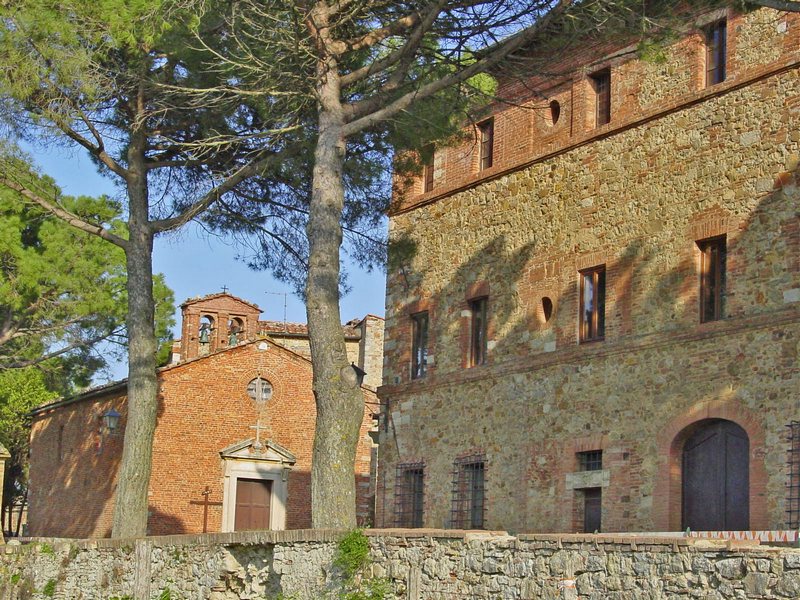 Monuments and places of interest
Church of San Rufus, built in the second half of the XVI century by the wishes of the Counts Pannocchieschi of Elci, is included in the structural complex of the villa of Anqua. On the site was formerly a chapel dating back to the fourteenth century. The church preserves inside an oil painting of the Virgin assumed among the Saints.

Church of San Niccolò a Elci

Villa Pannocchieschi of Elci, also known as the farm of Anqua, is an imposing villa-farm that constitutes the historical nucleus of the hamlet. It was built from 1572 to the behest of Count Marcello by Tommaso Pannocchieschi of Elci. in the courtyard of the villa is located a well dated 1789.
Castello di Elci, an important castle of the territory, located outside Anqua, dates back to year 1000. Today there are only ruins: some masonry structures are still standing including the fortress  complex and part of the walls of the castle.
(https://it.wikipedia.org/wiki/Anqua)
---