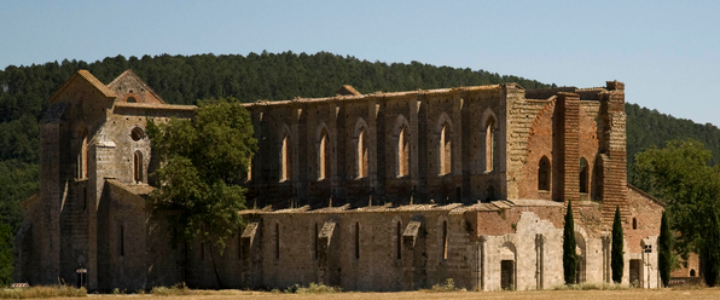 The building made up of Montesiepi Rotonda and the ruins of the great Cistercian Abbey of San Galgano is one of the most enchanting views in Tuscany.

In the circle of Montesiepi is, stuck in the rock, the sword of Saint Galgano.

While it may seem strange to the circle of Montesiepi it is the oldest of the great Abbey.
In fact the Montesiepi was built between 1182 and 1185, over the hut on the hill where Saint Galgano lived the last year of his life, just where he had driven his Sword in the rock.
La Rotonda Montesiepi was then the first of the Holy Grave, who was buried north of the sword as to see through the front door, Chiusdino. Only in 1220 it began the construction of the Great Abbey downstream.The construction work lasted until 1268, when it was officially consecrated by the Bishop of Volterra Alberto Solari.Then a hundred years of great splendor until 1364 which followed a slow decline due to the practical misfortune of.
One thing above all others: in 1550 Girolamo Vitelli arrived to sell (after the jewels and who knows what else) the lead roof.
Despite some attempts to restore the convent at the end of 1789, after the Montesiepi was elevated to Pieve, the great abbey was deconsecrated and left to ruin.
The entrance to the Great Abbey of San Galgano is allowed every day from morning until sunset at the following times


– From November to March from 9.00 to 17.30
– In April, May and October from 9.00 to 18.00
– In June and September from 9.00 to 19.00
– In July and August from 9.00 to 20.00